Introduction
Many real estate agencies are not aware of the new capabilities that Google has added around targeting users who are currently in the market for real estate services. With Google Search, YouTube, and Google's Display Network becoming increasingly prominent, agencies who ignore these channels are missing a huge opportunity. Google Ads provides an enormous array of options for advertisers that can be overwhelming.  At Vizala, our goal is to cut-thru the extraneous details and lay out a strategy that agencies can use to grow their businesses with Google Ads. Some of the key themes include….
Ads are exclusively shown to "In-Market" audiences. This includes users whose online behavior (searches and sites visited) indicates that they are either currently looking to hire a real estate agency, or they are currently in the process of buying and/or selling a property.
Other targeting options are layered on top including location, age/income demographics, and retargeting
Tracking and various controls are used to continuously optimize campaigns, allocate spending, and hit budget targets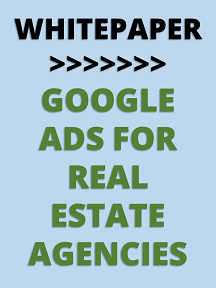 Targeting Prospects Who Are Looking for a Real Estate Agent
Search Ads: Looking for Clear and Obvious Intent
The main benefit of advertising on Google and other search engines is the ability to reach prospects who are currently in the market for a realtor. The terms listed below are examples of what a person would search for who is looking to hire a local real estate agency. The best terms provide some specificity, examples include "luxury" "commercial" and "buyer's agent." Vizala Digital has more than 2K of these search terms pre-selected and ready to be deployed to our client's campaigns.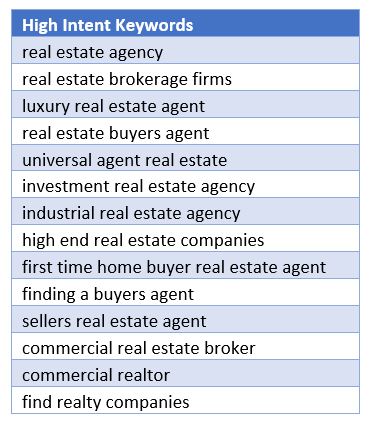 With local intent keywords, not only is the user specifying that they are in the market for a real estate agency, they are also specifying that they are looking for a local agent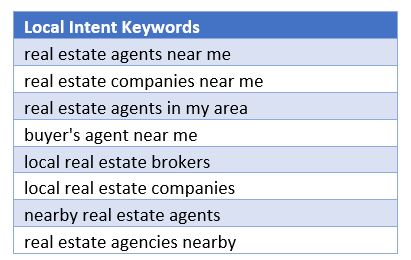 Here are examples of local intent keywords for Miami FL. For these keywords, we can expand the geographic targeting because the location intent is actually in the search term. In other words, an agency in Miami would limit most of their ads to the Miami area. However, for keywords that include the word "Miami" or "Miami Beach" they can target the entire state of Florida or the entire southeast because the user is making clear in the search that they are looking for a Miami agency.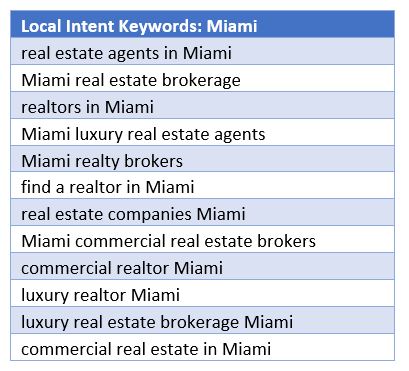 Excluded Keywords
To get the best ROI for client campaigns, we only focus on high-intent keywords like in the previous examples. We also make an effort to prevent ads from showing on searches that don't meet these criteria. Examples of excluded terms include….
Competitive firms – If your ads appear for your competitors, users will often carelessly click on your ad while thinking that you are the competitor. This will reduce your ROI since the ads are pay-per-click.
Research – We try to avoid searches where the user appears to just be doing research and gathering information. These searchers may become prospects down the road but at the moment they have not yet indicated that they are looking to hire an agency.
Too Vague – We avoid bidding on searches where the intent is unclear or unspecified.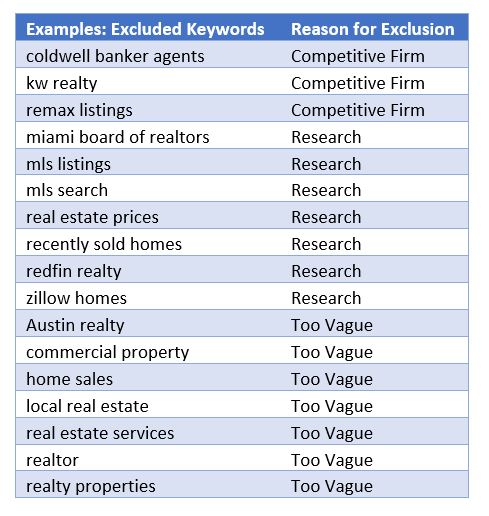 Display Ads: High Intent Placements
The goal with display ads is the same as with search ads in that we are trying to reach prospects who are currently in the market for a realtor. For display ads we do this by targeting specific placements where the reader appears to be preparing to select a realtor. You would not run the ad across the entire website, but instead you select individual pages or sections of websites that are the most relevant. At Vizala Digital we have more than 2K preselected placements that can be deployed to a client's campaign. Here are examples…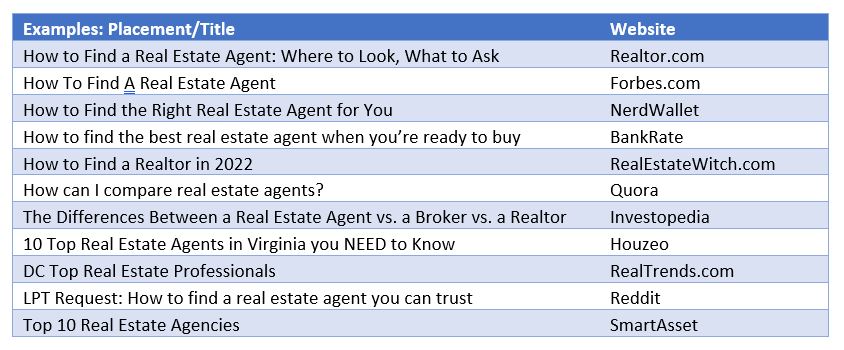 Since the placements in the table above are not focused on a specific location, we must use location targeting to only show ads in the agency's region. By contrast, in the table below the content specifies Miami. So for these placements we can use broader targeting which may be the whole state of Florida, the entire southeast region, or even the whole US.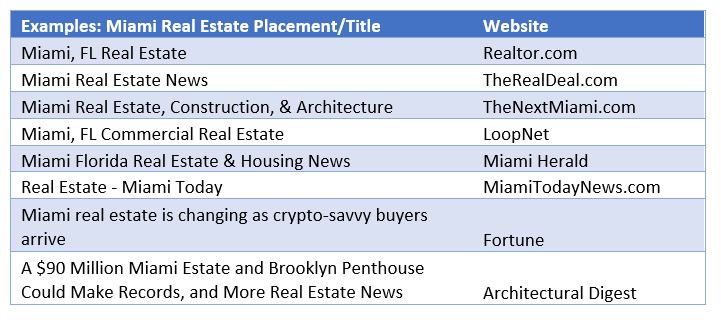 Video/YouTube Ads: High Intent Placements
The same placement targeting strategy that is used for display ads can also be used with video on both YouTube and other websites that include embedded videos. You would not advertise across all of YouTube, but instead you would advertise on only the most relevant videos and channels. Again, at Vizala Digital we maintain a growing list of more than 2K YouTube placements. Here are examples….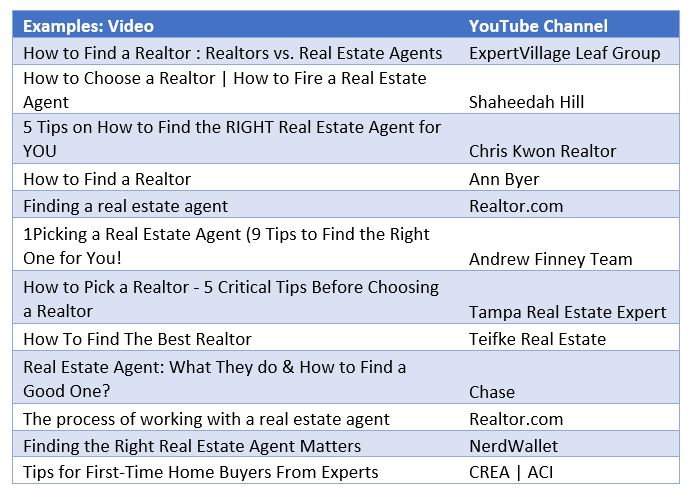 As discussed in the previous sections, when targeting these YouTube channels and videos we can use broader geographic targeting since the location (Miami, FL) is specified in the Channel/Video.