No setup fees
No charges until after you start receiving traffic and leads.
Pay per click
Only pay for visits to your website. Views of your ad/brand are free.
Pay as you go
You decide the monthly budget. Real time performance dashboard and lead tracking provide full visibility.
Cancel at any time
Cancel or resume your ads at any time. Adjust your budget on a monthly basis.
Basic Terms
Pay per click. Pay as you go. Google charges your card every time you reach $500 in clicks.

Minimum monthly ad spend budget of $1K

Cancel at anytime. No setup fees or other fees.

Management fee is 25% of ad spend

Ad campaigns are fully setup and managed by Vizala Digital.
Volume Discounts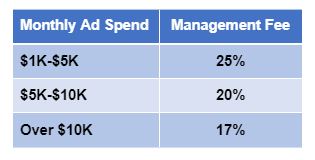 Full Agreement Terms
1) With regard to the Google Ads Service, Vizala agrees to setup and manage the following items for the duration of the service…..
Account setup or audit of existing account
Keyword research/selection
Creation of new Search/Display/Video campaigns
Selection, optimization, and bid adjustments for various targeting options including audiences, devices, demographics, locations, scheduling.
Configuring campaign settings
Writing ad copy
Testing different landing pages, offers, targets and more
Ongoing competitive bid management
Quality Score optimization
2) Vizala will provide any of the following reporting/analytics and consultative services as needed…
Landing page/offer consulting
Google Ads conversion tracking setup/support
Customized daily/weekly/monthly automated dashboards
Unlimited email/phone support
3) The client will determine the monthly budget/spend target, which will then be entered into Google's automated budget control setting. If there is an overage, management fees will not accrue for the difference between the agreed upon budget and the amount actually spent. (note: In the event of an overage, Google should provide a credit) If no budget target is provided for the current month, the previous month's target will be used. Underspending can occur for any number of reasons including low demand, increased competition, narrow targeting, etc.
4) The Google Ads service is pay-per-click and charges are accrued as the ads are clicked on by end-users. The client can ask that the ads be paused and/or cancel the arrangement at any time. In either case, Vizala will make its best effort to pause the ads ASAP to prevent further accrual of charges. Management fees will not accrue after Vizala has been notified to pause the ads.
5) The client will supply Google with a credit card. As charges accrue, Google will automatically charge the card. Vizala will not be involved in these transactions.
6) The client agrees to pay a management fee to Vizala equal to 25% of the total spend on ad-clicks. This would involve a quarterly payment that is separate from the automated payments made directly to Google throughout the month.
7) Either party can cancel the arrangement at any time. Terms may be subject to changes/updates, which would be communicated in advance.