"In the first few months, we experienced a significant increase in qualified leads and inquiries. We also picked up 7 new B2B clients that could be directly attributed to our ad campaign. Gregg was very methodical in building our campaign, he really knows what he's doing. "
About Davidov & Associates CPA
Davidov & Associates CPA is a CPA firm located in Alexandria, Virginia. Founded in 2003, the firm has served the Washington DC metro area for over 20 years, with five office locations in the region. They offer their services to a varied group of clients, including individuals, businesses, and non-profit organizations both within and outside the DC Metro area. Davidov & Associates aims to ease their clients' tax and accounting burdens, allowing them to lead a more relaxed lifestyle. Their service offerings include accounting, bookkeeping, payroll, tax planning, IRS audit assistance, business advisory services, and guidance for new business formations.

Paid Search (PPC) Ad Campaign
In 2022, Davidov & Associates wanted to drive qualified traffic to their website, increase the flow of qualified leads, and generate new clients. They especially wanted to see an increased lead flow from B2B prospects and affluent individuals, since these clients tend to generate more lifetime revenue.
They contacted Vizala Digital with the hope of generating new business from these B2B and affluent prospects. Vizala recommended targeted paid search (PPC) campaigns. The campaigns would run in the DC metro area and they would focus on search terms with a high level of commercial intent (hire a CPA firm, accounting firm for small business, etc.) The campaign would also focus on search terms that included local intent (Alexandria CPA firm, accountant in my area, etc.)
When configuring the ad campaign, Vizala and Davidov worked together to select targeting criteria including the zip codes and neighborhoods where the ads would appear. Davidov was included in this process to leverage their knowledge of their local area and the location of their current clients. Likewise, Davidov helped select the age groups, income brackets, and other demographic information that was used for ad targeting.
The campaign was organized around the different services that Davidov offered. If the prospect searched for "cpa near me," the ad they saw was focused on CPA services for small businesses and the landing page that they went to was also focused on CPA services for small businesses. Likewise, if the prospect was looking for Quickbooks consulting services, both the ad copy and landing page would closely match the search term.
Results
After 9 months, Davidov had generated 100 new inbound leads at a cost of $109.03 per lead. The firm's found Mike Davidov said "In the first few months, we experienced a significant increase in qualified leads and inquiries. We also picked up 7 new B2B clients that could be directly attributed to our ad campaign. Gregg was very methodical in building our campaign, he really knows what he's doing."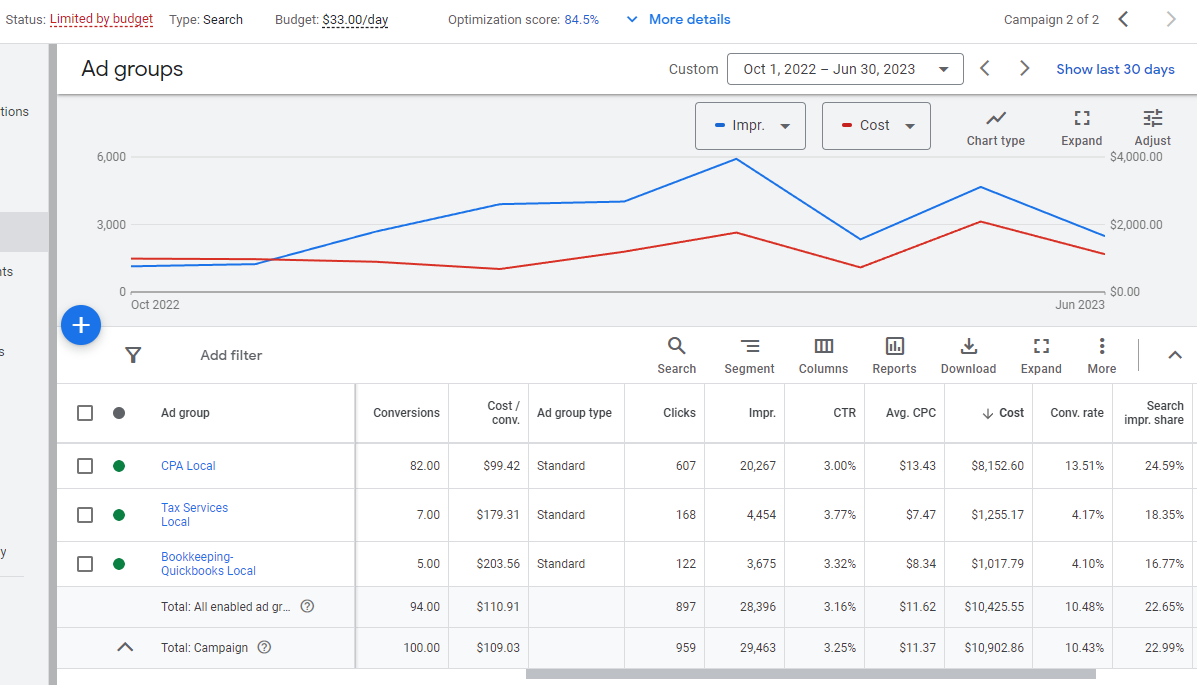 Based on the success of the campaign, Davidov has doubled their ad spend budget. Both Davidov and Vizala continue to look for ways to improve the targeting, messaging, landing pages, and other elements of the campaign to continue to drive performance.